QDEK Revival Kit: Free with Every PU Adhesive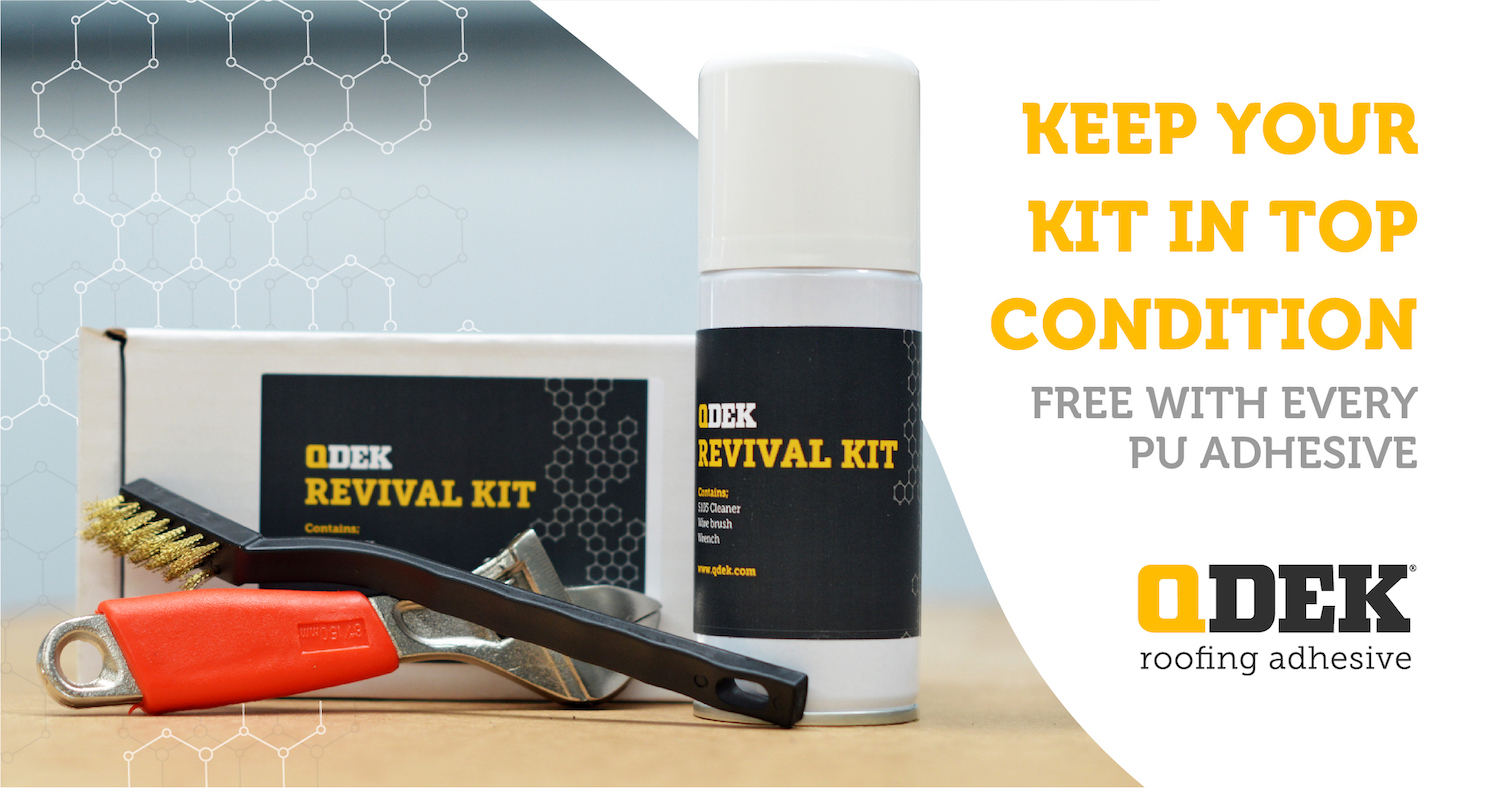 Here at QDEK, we don't compromise on quality. We know what tools you need to get the job done properly and we've put a kit together to keep your equipment in top condition. Blockages are the last thing you need when working with spray systems: the QDEK Revival Kit has everything you need to remove residue build-up and ensure the job runs smoothly.
It's important to remember that polyurethane adhesives cure with moisture. Put simply, this means that once the PU residue has cured, it becomes really tough to remove. So if the adhesive cures within the spray tip; the tip will no longer be fit for use and must be discarded. Our Revivel Kit was put together to avoid this and make sure your tools stand the test of time – trust us, they will.
What's Inside
1 x 150ml Acetone – Use this aerosol cleaner to spray the tips and nozzles during and after use. This will keep them clean and prevent any blockages from cured adhesive residue.
1 x Wire Brush – When you've sprayed with acetone, give tips and nozzles a good clean with the wire brush. This will remove even the toughest adhesive residue build-up.
1 x Adjustable Spanner – It's important to keep your connections tight. Use this wrench to tighten the spray gun and hose connections to the canister to guarantee optimum performance.
This nifty kit will save so much time on the job: you don't need to worry about clearing blockages or changing tips on site and you have all you need in one place. What's more, your installation schedule won't be impacted and you can rely on your QDEK adhesives to perform phenomenally every single time.
QDEK PU Adhesives
All of the following QDEK PU adhesives come with a free QDEK Revive Kit:
Get your hands on a FREE Revival Kit today! Contact us and we'll put you in touch with your nearest distributor.
Join the Roofing Revolution
If you're a contractor looking for a high performing spray adhesive system, we want to hear from you. We're passionate about smart roofing solutions and we spend time with contractors and their staff to develop their understanding of how to apply QDEK spray adhesives for permanent, phenomenal results.
For more information on our high-performing spray adhesive systems, get in touch or browse our full selection of smart roofing primers and adhesive here.