QDEK 2001: First Choice for Ultra Tough EPDM Bonding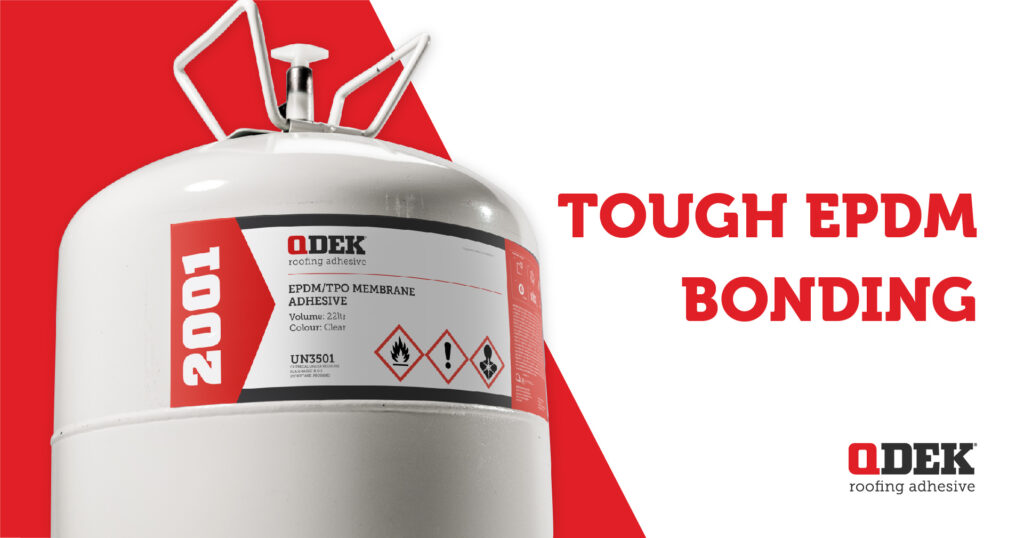 Is bonding EPDM your business? Do you need a solid all rounder that performs every time? QDEK knows the score and we've developed QDEK 2001 to do just that. This seriously strong adhesive will fit right into your kit and perform phenomenally on TPO flat roofing membranes too.
We're confident that once it's in your kit, you'll never bond with anything else…
Unbeatable Bonding with QDEK 2001
Versatility & Compatibility:
This high performance contact adhesive has been formulated specifically for bonding EPDM and TPO flat roofing membranes. It's compatible with almost anything: roof decks including concrete, most insulation boards, plywood and cementitious boards. The benefits don't stop there though. This high heat resistant adhesive is perfect for large field areas and more detailed areas too, so you won't lose any control where the smoothness of the membrane is critical.
Fast High Tack:
Have you ever worked with a roofing adhesive that flashes off in less than 2 minutes? Well, now you can. QDEK 2001 is fast drying, super strength adhesive that boasts excellent green strength and tacks off in just 1-2 minutes. That means you'll get the job done faster, smarter and still have time for a cuppa – what more could you ask for?
Blister Resistant:
Blistering is a nightmare for flat roofers. They're caused by a loss of adhesion on the roof, and if left untreated they can grow larger and allow more moisture to creep in. QDEK 2001 is fully blister resistant immediately after application and guarantees strong, reliable bonds between the membrane and roof substrate. Try it and you'll never look back!
QDEK 2001 EPDM/TPO Membrane Adhesive User Tips
Make sure your surfaces are clean, dry and free from any grease or dirt – this will maximise the performance of the product and get you off to the best start.
Prior to use, try to shake the canister well, secure the hose tightly and release the valve carefully to prevent any leakages.

Remember the optimal temperature for bonding is between 60 ˚F – 80 ˚F (16 ˚C – 27 ˚C) – so try to pick the right time for peak performance.

Allow 2 minutes for the primer to tack off – tap your knuckles on the surface if there's no transfer then you're good to go.
Don't worry if your spray tip clogs: every QDEK adhesive comes with a FREE QDEK Revival that contains everything you need to keep your kit in top condition!
Join the Roofing Revolution with QDEK
Get in touch with us if you want to know more about QDEK 2001. Contact Us today if you're a contractor looking for a high-performing contact adhesive or browse our full selection of smart roofing primer and adhesive solutions here.