How to Choose the Right Adhesive for your Bonding Method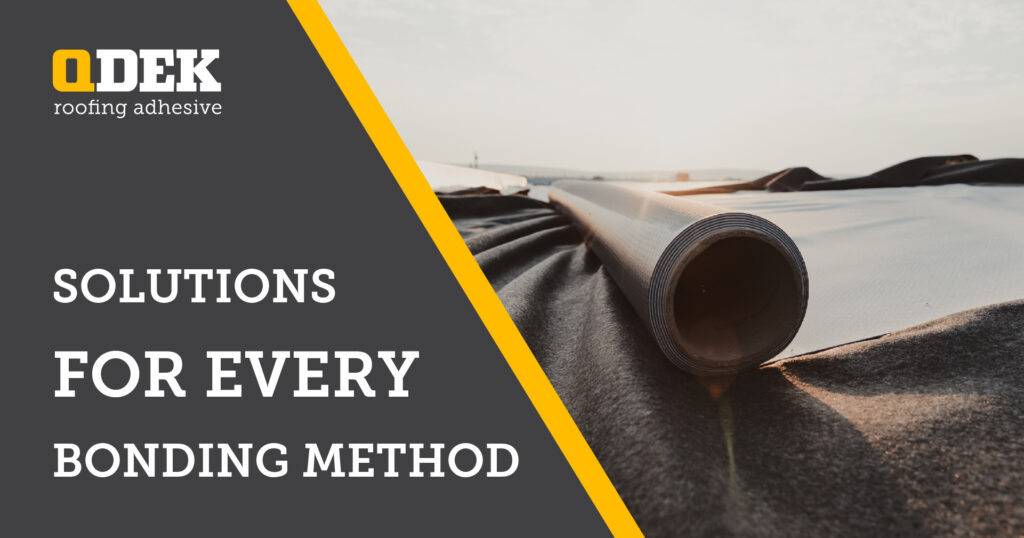 No two flat roofing jobs are the same. Roofers face new challenges every day: whether it's making sure you've selected the right membrane for the substrate, understanding temperature requirements, or just being up against the weather. QDEK knows roofing is hard graft and we've developed a range of adhesives that deliver rapid results, high coverage and perform phenomenally whatever the bonding method. 
Get the Right Adhesive for the Job with QDEK
Roof Insulation:
Make fasteners a thing of the past and never puncture a membrane again with QDEK 3000 & QDEK 3001. We've developed rapid drying, super strength adhesives to bond insulation boards with total ease. Don't worry if it's cold outside, QDEK 3001 is optimised to extrude well in low temperatures too. 
Did you know we also supply QDEK 9000 & QDEK 9001 which are approved by Kingspan for use with the OPTIM-R® system? We've really covered all bases for insulation board bonding… 
Single-Sided Membranes:
For fleece or scrim-backed membranes, we've developed the seriously speedy QDEK 2350: single-sided and sprayed directly to the roof deck. It's compatible with concrete, plywood, cementitious boards and EPS/XPS, so it's perfect for existing felt or re-roofing jobs. There's no need to spray the membrane and it flashes off in less than 2 minutes – so when we say rapid we mean it! 
Plain PVC:
If you're working with PVC, then QDEK 2300 & QDEK 2301 will provide you with unbreakable bonds. These high performance contact adhesives guarantee superior green strength adhesion on a wide range of roof decks, including concrete, plywood, cementitious and most insulation boards. What's more, QDEK 2301 is non-chlorinated so it's even safer and you won't need to worry about breathing in any harmful chemicals. 
Self-Adhesive Priming:
If you're looking for a trusted primer, guaranteed to transform your single-ply roofing application, then it has to be QDEK 2400. It's a zero waste formula designed for use with all self-adhesive membranes and vapour barriers. This high-performance primer tacks off in just 1-2 minutes too – that's a whole lot quicker than the 4 hours you're used to waiting with a roller and bucket! 
Get Expert QDEK Advice Today! 
Whether you're bonding insulation boards, contact membranes or setting yourself up for success with a primer, QDEK has the smart solution. We know roofing inside out and we've engineered adhesives and spray systems to suit every flat roofing application type and bonding method. Our team of in-house experts want to hear from you! If you have any questions, or want to learn more about QDEK adhesives, get in touch today!