Providing you with the tools for maintaining your equipment
Maintained equipment eliminates the time wasted in having to fix blocked equipment and ensures your tools are always in perfect condition for the job in hand. This is why we provide a QDEK Revive Kit free with every QDEK polyurethane spray adhesive, to help you keep your equipment in top working condition.
What is inside the QDEK Revive Kit?
Have a look below to see what is included and why.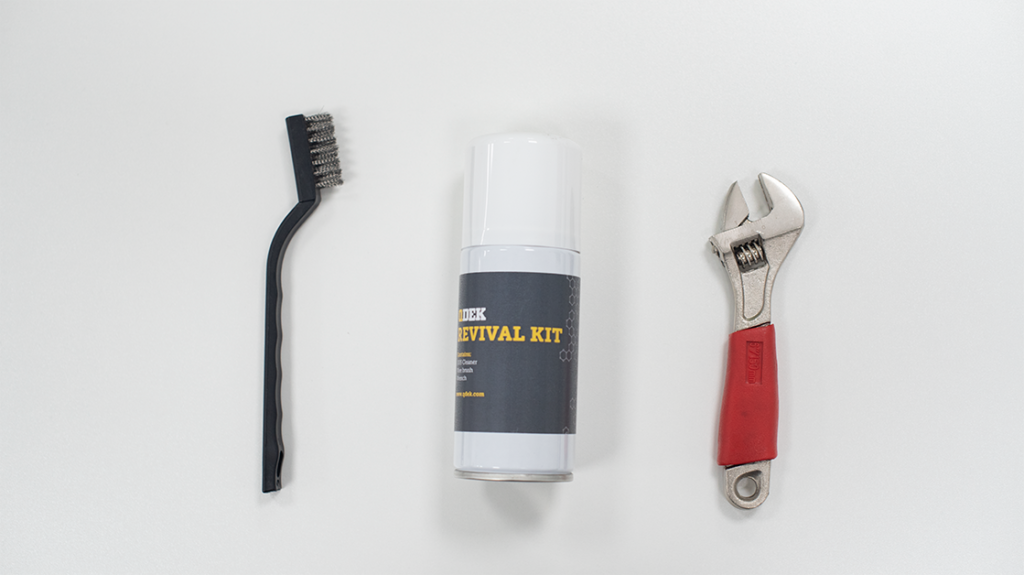 1 x 150ml cleaner aerosol – Use this to spray the tips and nozzles during and after use to keep them clean and avoid blockages from cured adhesive residue.
1 x wire brush – This is to assist alongside the cleaner, in removing tough adhesive residue from tips and nozzles.
1 x adjustable spanner/wrench – This is to assist with tightening the spray gun and hose connections to the canister.
The QDEK Revive Kit can be found inside the canister box; you will find the kit between the canister handle and the side of the canister box.
The QDEK adhesives listed below all come with a free QDEK Revive Kit:
Why should you maintain your polyurethane adhesive spray equipment?
Polyurethane adhesives cure with moisture. This means once the polyurethane residue has cured, it becomes very tough to remove. If the adhesive has cured within the spray tip – the tip then needs to be discarded.
The QDEK acetone cleaner keeps your spray nozzles free of polyurethane adhesive residue, saving you time-on-site, as you don't have to stop continually to fix blocked guns and risk impacting key installation time. The QDEK Revive Kit allows you to get the project completed quicker and more consistently, within the desired timescale, ensuring you get the maximum use out of your equipment.
Are you looking to maximise your installation time, by using the QDEK revive kit?
The QDEK Revive Kit comes with every purchase of our polyurethane spray adhesives, so make sure you don't miss it and put it to use today.
The QDEK Revive Kit is also available in neutral branded packaging for private label customers.
Have a look at our website here – https://qdek.com/ for further information.
Follow us on Social Media