Need to complete your Roofing job quicker? Why not find out how QDEK 2400 Primer can help you?
Need to complete your Roofing job quicker? Why not find out how QDEK 2400 Primer can help you?
Providing solutions is what we do at Quin Global UK. Whether you are looking to cut your installation times or a healthier alternative to the adhesive you are currently using. We work with you to find out what your challenges are and to provide the solution to your adhesive problem through our Dream, Develop, Deliver process. We know time is one of the major issues throughout the roofing industry, and we have the solution to get time back under your control. In today's article, we are going to look at what QDEK 2400 Self Adhesive Membrane Primer can do for you and how our Dream, Develop, Deliver process can help find the solution to your problems.
What is QDEK 2400 Primer?
It is a spray primer containing solvent, based on synthetic rubber and resins. It is specifically designed for use with all self-adhesive membranes and vapour barriers. QDEK 2400 Primer can be applied to metallic substrates, bituminous materials, wood-based materials, and insulation boards. Once applied to the roof deck, it is dry within 2-3 minutes and can be walked on without transferring to the soles of your safety boots.
What are the benefits to you?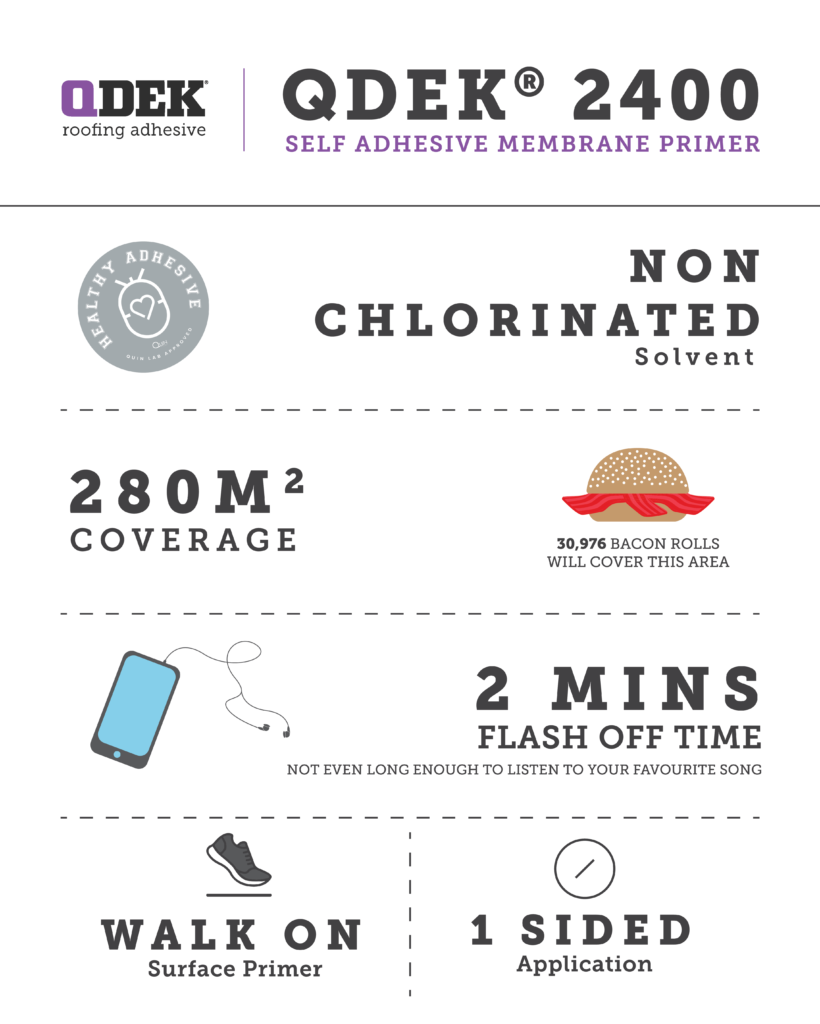 · EPS compatible
· Non-Chlorinated Solvent system
· Primed surfaces can be walked on immediately
· Controllable and adjustable spray application
How can QDEK 2400 Primer help you complete the job quicker?
It has a rapid flash time of 2-3 minutes which is very quick compared to traditional roll-on primer products which can take hours to dry. With traditional methods, the roof decks must be cleared whilst the primer dries. With QDEK 2400 Primer, roof decks can be primed, and the VCL installed after 3 minutes on the same day. This makes installation times much quicker avoiding the need to re-prime, making it easier to work ahead of harsh weather conditions.
After 2-3 minutes, the primed surface can be walked on immediately without transferring onto safety boots. This makes installation of the self-adhesive membrane very quick and easy. After 2-3 minutes, primed metal surfaces can be torched onto without any problem making the use of this primer very universal.
QDEK 2400 Primer offers a phenomenal coverage rate of 280 square meters per 22-litre canister making it very cost-effective per square meter.
What is our Dream, Develop, Deliver process?
It is a process that is about helping our clients realise their aspirations and ambitions around the application of spray adhesive in their sectors. We document those aspirations forming a visual criteria of actions to complete and enable their dream to become a reality. The criteria list clearly defines the areas to develop, whether it be to create a new innovative adhesive product, a specific colour of adhesive, or even a brand-new application method. Now we must deliver – deliver is not just the delivery of the finished product. It is the overall package of support, training and backup, along with a powerful marketing strategy, to ensure peace of mind and make it as easy as possible for our clients to do business.
Final Thoughts
If time is something you are struggling with, QDEK 2400 Primer could be your solution as it is guaranteed to speed up installation, reduce primer application time and drastically reduce tack time, while delivering peace of mind through superior bond performance. Through our Dream, Develop, Deliver process, we can work with you to find the solution to your problems. This ensures you end up with the right application for the right price.
You may also be interested in these articles here –
https://qdek.com/dream-develop-deliver/
https://qdek.com/scientific-roofing-adhesive-systems/
Contact us –
E-mail – sales.uk@quinglobal.com
Telephone – 0845 381 2233
Website – http://www.tensorglobal.com/
Follow us on social here –