How to Choose the Right Adhesive for your Membrane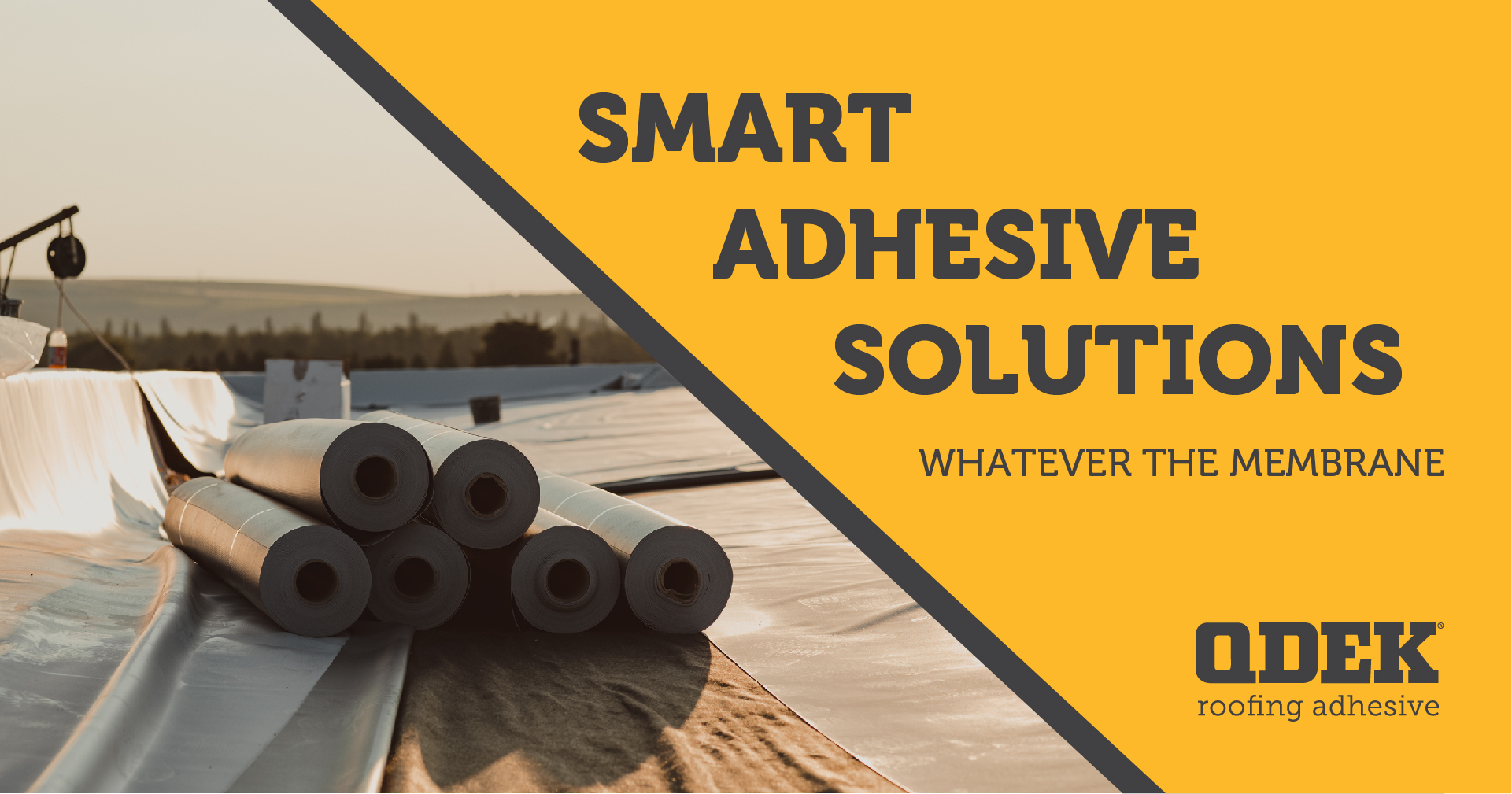 Single-ply roofers work with different membranes every day. It's hard graft and we get that. That's why we've developed smart spray adhesives that deliver rapid results, high coverage and perform phenomenally on flat roofing membranes. We know the industry and we've developed bonding solutions that stand out from the crowd and make your life easier.
Whatever the membrane, from EPDM to PVC,TPO, bituminous, self-adhesive… we've got you covered. On the off-chance we can't get you sorted, then our industry experts will point you in the right direction of a company that can. Yes – we're that serious about making sure you get the results you need.
QDEK's Quick Guide to Bonding Membranes
EPDM: A popular choice for flat roofs, EPDM is heat resistant, weather resistant & easy to apply. QDEK 2001 & QDEK 2003 have been formulated to expertly bond EPDM membranes for years to come. Look out for the dark red label!
TPO/FPO: Providing high reflectivity, TPO/FPO are energy efficient choices that single-ply roofers work with often. QDEK 2000 & QDEK 2001 have been specially engineered with fast high tack and excellent green strength when bonding these membranes.
Plain PVC: If you're bonding PVC, then QDEK 2300 & QDEK 2301 do all you need and more. These are high performance contact adhesives that will guarantee tough bonds for PVC on a variety of roof decks including concrete, most insulation boards, plywood and cementitious boards.
Bituminous: A favorite for waterproofing, bituminous membranes are a common choice for flat roofing applications. QDEK 2351 & QDEK 2353 are super tough foam spray adhesives guaranteed to transform the way you work. QDEK 2400 is the perfect, speedy primer for self adhesive bituminous membranes: once applied to the roof deck it's dry within 2 minutes!
Insulation: QDEK 3000 & QDEK 3001 have been designed to bond insulation boards without any hassle. QDEK 3000 replaces the need for fasteners, meaning you won't have to worry about puncturing the membrane either. If you're bonding Kingspan OPTIM-R® panels, then we have QDEK 9000 & QDEK 9001 which are approved by Kingspan for compatibility with the OPTIM-R® system.
Self-Adhesive: For safer working methods that avoid the use of flame or hot bitumen, self-adhesive membranes are often the go-to choice. QDEK 2400 is a versatile primer designed for use with all self-adhesive membranes and vapour barriers.
Put Your Trust in QDEK Experts
We're experts in adhesives and we know the industry inside out. If we can't provide a suitable adhesive for your membrane, be sure that we'll point you in the direction of somebody who can. Our in-house advisors are always on hand to give advice, tips and solutions to your bonding queries. We want to hear from you! Contact Us or view the QDEK compatible membranes here.