Tips for Easy QDEK Canister Set Up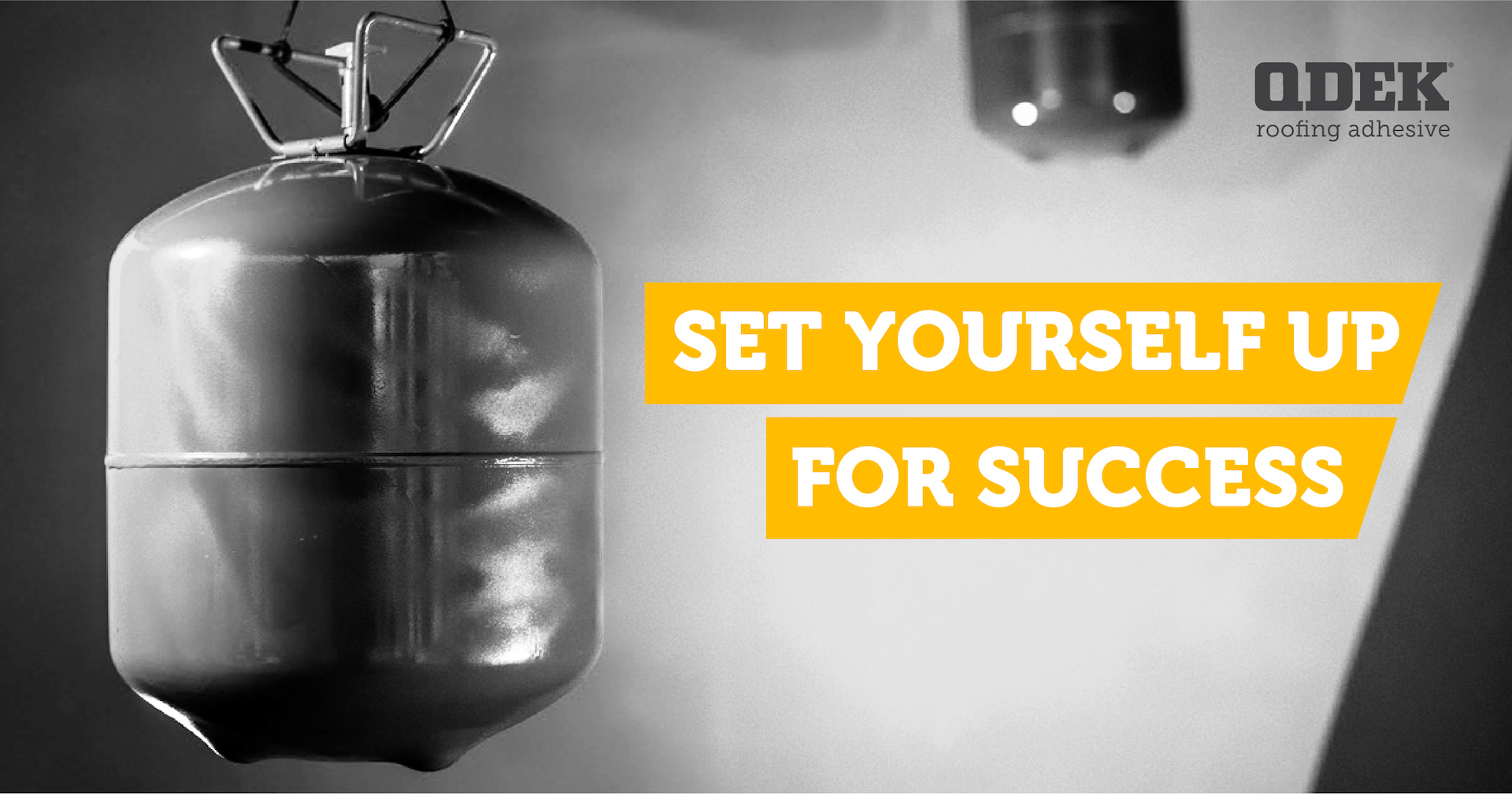 Here at QDEK, we're serious about getting the job done quicker, cleaner and safer. That's why we believe spray adhesive systems are the number one option for bonding roofing membranes. We've put in the groundwork and we guarantee our products will save you time, money and hassle on roofing jobs. If you're installing a flat roofing membrane, then ditch the roller and bucket and switch to spray for high-performing bonding every time.
Get Started with QDEK Spray Adhesives
STEP 1: Attach the large end of the hose onto the spray gun with the required tip. Make sure it's really tight to prevent any leakage.
STEP 2: Secure the other end of the hose to the canister. Make sure both hose-valve connections are tight and secure: this is crucial for successful set up.
STEP 3: Open the valve slowly and fully: this is where the hose will become pressurised. Make sure you check for any leaks on this step too… remember always tighten to stop any leakage.
STEP 4: Unlock the trigger and you'll start to notice the air build-up releasing. This is complete when your adhesive begins to spray out.
STEP 5: Always remember to carry out a small patch test of the adhesive on the substrate. This will ensure it's fully compatible and doesn't degrade the material.
More Tips for Safe Handling
Always consult Material Data Sheet prior to use: all adhesives are different and you want to make sure you're handling your spray in the safest possible way.

When connected, always keep the valve open and hose pressurised.

Remember to never close the valve until you're ready to connect to a new cylinder.

Always release pressure in the hose before disconnection: it's better to be safe than sorry.
Join the Roofing Revolution
The QDEK range of roofing adhesives has been engineered for exceptional bonding results every time. Our spray adhesives and primers are designed to bond single ply membranes, insulation boards, self-adhesive membranes and vapour control layers. Available in 13.7L and 22L canister systems, our spray adhesives systems deliver rapid, high coverage with zero waste. Ditch the roller and bucket and switch to spray today – trust us you won't regret it!
We're here to help and would love to hear from you! If you have any questions about our products then please get in touch or view our full range of products here.