QDEK's Top Tips for Snowflake Spray Application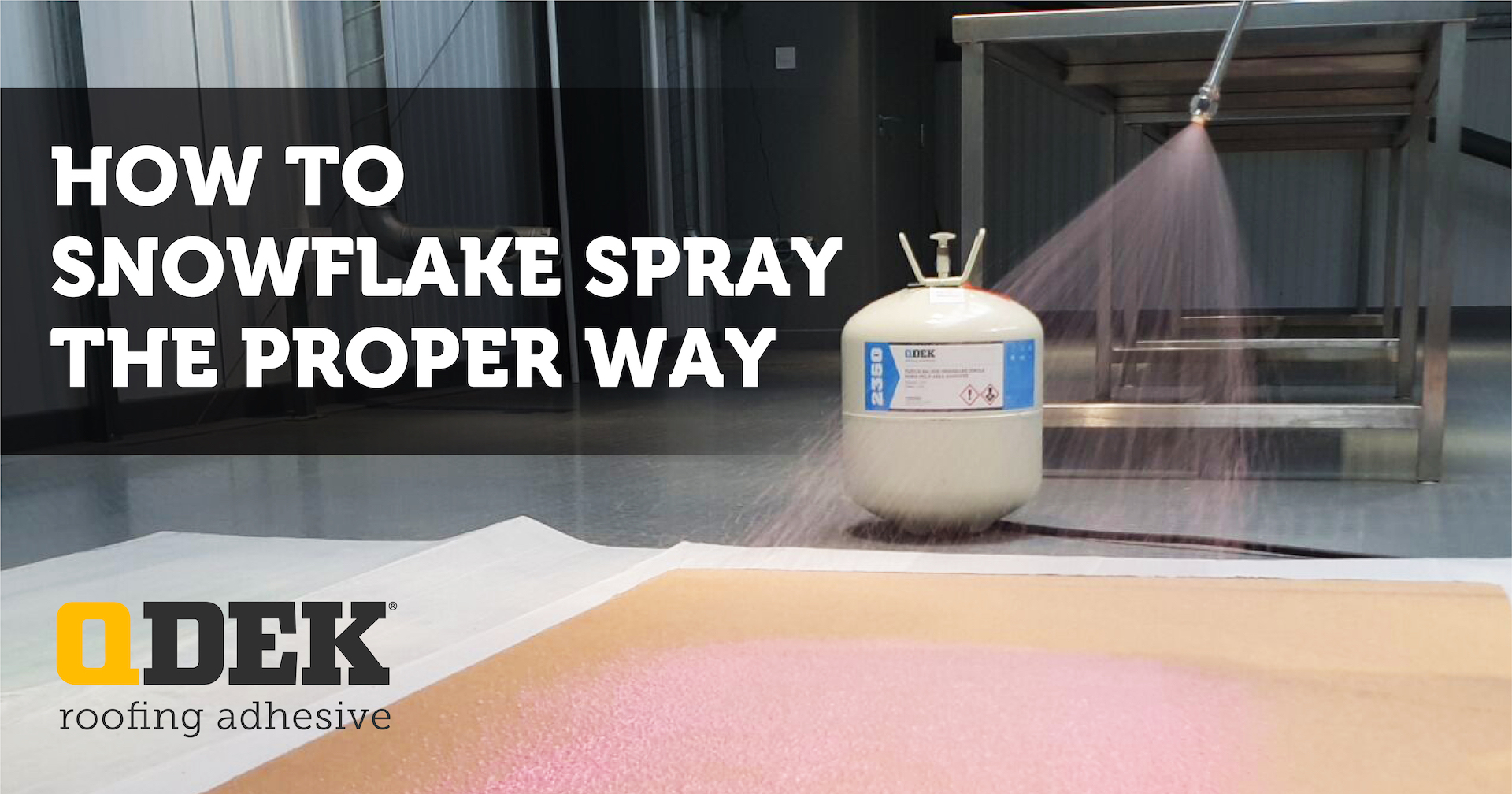 Here at QDEK, we are determined to revolutionise roofing and make spray adhesives the first choice for single-ply roofers and contractors. The switch to spray is a no-brainer – it's faster, cleaner & outperforms the roller and bucket method every single time. If you're looking for high coverage, controlled application and a flawless finish: switch to a QDEK spray adhesive today! We have three main spray types: snowflake, web and bead. Here's our expert advice for perfect results with our unique snowflake spray.
QDEK 2350 and 2352 snowflake sprays have been specially designed to bond fleece or scrim-backed roofing membranes to a wide range of roof decks including concrete, insulation boards and plywood – the list goes on. Snowflake sprays are single-sided adhesives and applied to the roof deck only.
They spray in a unique snowflake pattern, designed to give a slight rise as the droplets build on the surface of the board. This spray pattern promotes the adhesive to anchor to the fleece or scrim-backing resulting in a super-strong bond!
What you'll need: The QDEK Field Gun is compatible with snowflake spray adhesives – just make sure you've got the suitable tip and you're ready to spray away. The QDEK Field Gun has a long wand which eliminates the need to bend or kneel on application. It's been designed with your comfort in mind – so no more aches and pains at the end of the week!
How to spray:
– Preparation is key – always clean down your surfaces so there's no dust, dirt or grease on the substrates you're working with – this will maximise bonding performance.
– Try to shake the canister well, secure the hose tightly and release the valve carefully to prevent any leakages.
– Spray 15-30cm away at a 45-degree angle to the surface – applying an even coat of adhesive to obtain 60-80% coverage. You can always spray a little more in areas that you think need it.
– Allow time to tack off – this will be outlined on your adhesive but it's usually 1-2 minutes. Make sure to apply membrane within 10 minutes of application.
– Adhere surfaces with adequate pressure and allow 24 hours for adhesive to fully cure.
– Any clogging issues can be easily resolved with the QDEK revive kit which comes free in every canister box and contains a small aerosol of acetone cleaner. Remember – never use a pin on your spray tip!
Snowflake Spray compatible products:
QDEK 2350, QDEK 2352
At QDEK, we champion the "Train the Trainer" approach. If you're a contractor or distributor, we want to spend time with your staff to extensively develop their understanding on how to apply QDEK spray adhesives.
We can deliver training and demos on spray techniques, canister care and give you the low down on our innovative range of flat-roof adhesives and primers.
Join the Roofing Revolution with QDEK – Contact Us today if you're a contractor looking for a high-performing spray adhesive system or browse our full selection of smart roofing primers and adhesive here.