QDEK's Top Tips for Foam Beaded Application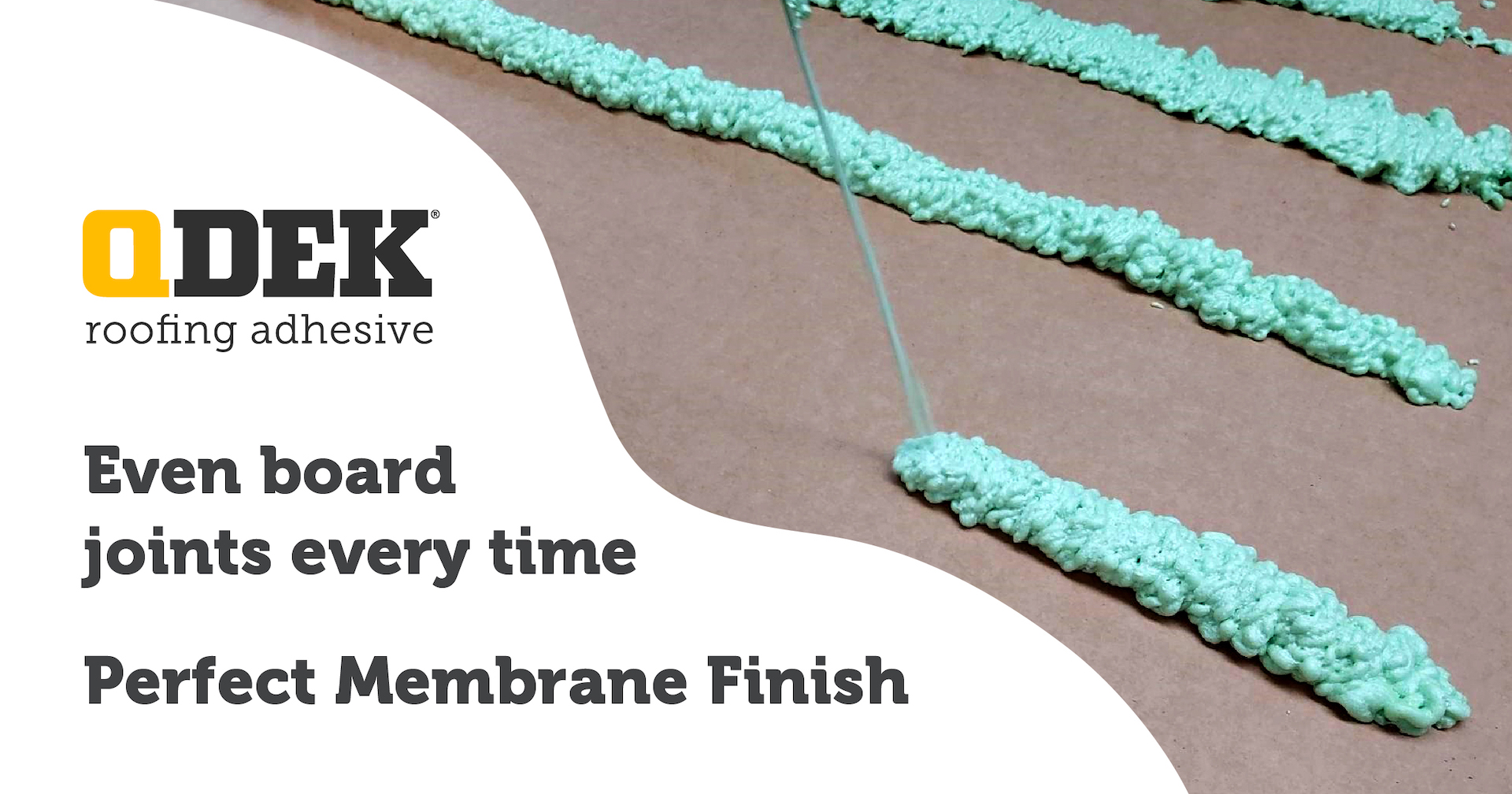 Do uneven insulation boards give you a headache? We know there's nothing worse than uneven joints between the boards and we've got the solution: QDEK PU foam adhesive. Our experts have developed this unique spray system to achieve a flawless finish every time and you only have to walk the boards in once.
The switch to QDEK spray adhesives will transform the way roofers work. If you're looking for high coverage, controlled application and a flawless finish when bonding Insulation boards: switch to a QDEK PU Foam adhesive today!
We use foam adhesive for bonding roofing insulation boards to a wide variety of roof decks in re-roofing or repair applications. Don't get our PU foam adhesives confused with expanding foam – our foam adhesives are designed for controlled application and result in flat, even layers every time. A QDEK foam adhesive won't continue to rise on the substrate and is designed to extrude well in low temperatures – a win win surely?
What you'll need: The QDEK Bead Gun has been specially developed for foam beaded sprays and designed to work with our Polyurethane Foam Insulation adhesives and Polyurethane Membrane Bead adhesives.
What you'll get: The QDEK Revival Kit comes free with every canister that is purchased and contains 150ml acetone, spanner and a wire brush for cleaning your tip. Make sure you keep this safe because it really comes in handy!
How to spray the QDEK way:
– Preparation is key for adhesive application. Make sure you clean down your surfaces well and make sure you remove any dirt, dust, oil, loose paint, wax or grease. Get this done & you're off to a flying start!
– Do a small patch test first to make sure the adhesive is compatible with the substrate. When you're satisfied, apply beads about 10-20cm away and at a 45-degree angle to the surface. Consistency is key here – try to apply 20-30mm wide bead every 300mm for peak bonding performance.
– Place insulation boards onto beads of adhesive immediately without any pressure and wait for 5 minutes for the adhesive to set.
– Once your 5 minutes is up, it's time to walk the board in & that's it – job done!
QDEK PU Foam products:
QDEK 3000, QDEK 3001
If you're a contractor or distributor, we can deliver training and demos on spray techniques, canister care and give you the low down on our innovative range of flat-roof adhesives and primers. We've developed the smartest adhesives in the industry and once you switch to a QDEK spray system, trust us, you won't go back.
Join the Roofing Revolution with QDEK – Contact Us today if you'd like to learn more about our foam beaded spray innovation or browse our full selection of smart roofing primers and adhesive here.