QDEK's Quick Guide to Canister Care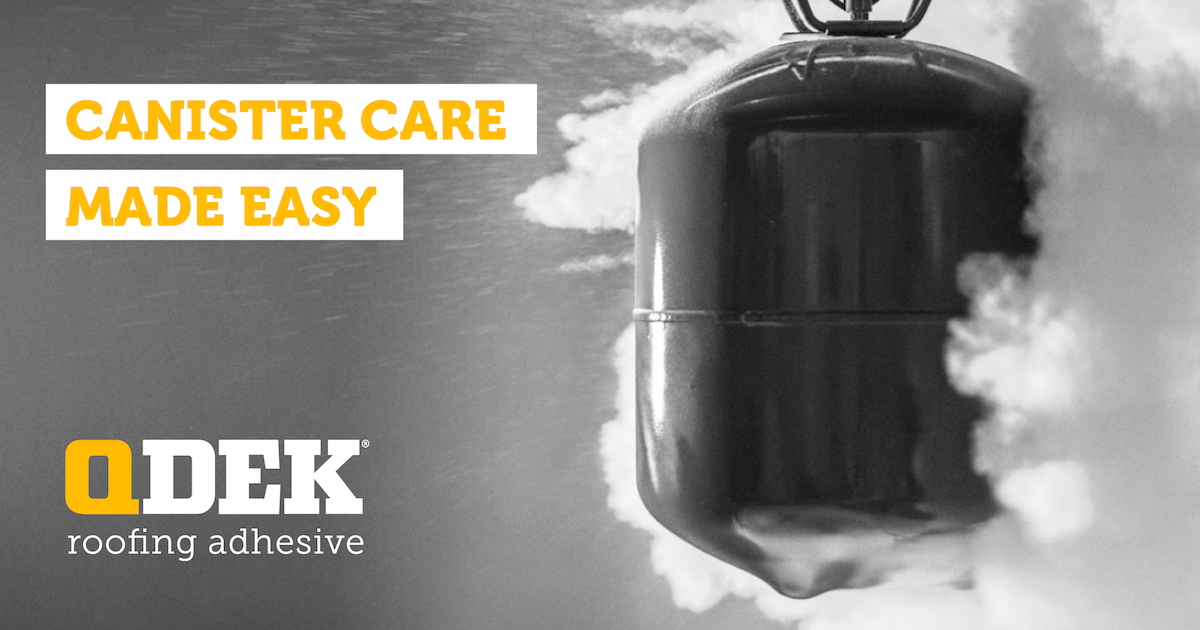 Canister care is simple… if you've got the know how. Here at QDEK, we're passionate about making roofing quicker, easier and safer. Not only that, we value your time and efforts and we're on hand to make your life easier with some simple tips on keeping your adhesives warm, dry and protected all year round. Spring might be springing, but the cold nights are here to stay!
Lower temperatures can have adverse effects on adhesives, causing them to thicken and ultimately damage the integrity of the solution over time. With the weather getting warmer, don't forget that it still gets nippy at night, so don't leave your canisters in the van if you want them to perform the next day! It's really easy to protect your product though, here's how…
Keep an eye out for changes
If a QDEK canister has been stored in temperatures below 10 °C, then the physical properties could have been affected. If you notice any of these signs, your adhesive could be underperforming due to cold storage:
Inconsistent spray pattern

Unusually wet adhesive

Adhesive 'spits out' as opposed to even spray

Flash-off times increasing

The adhesive is foamy or appears different

Materials are leaking from the solution
These are the tell-tale signs of cold storage compromising the integrity of adhesives, so always keep an eye out for anything unusual so you can nip it in the bud.
Get serious about storage
You really want to store your adhesives at around 10 °C – this is the optimum temperature to aim for, so you should avoid keeping canisters outside or in the back of the van.
Always keep your canisters directly off cold, concrete floors. This will transfer the cold faster than any other material, so try to store them on top of a pallet, on a piece of foam or in an MDF box with caster wheels if you can.
If you keep your canister in warm storage, you'll reap the rewards and get straight down to work in the morning with no messing around.
Too late?
If you've left your canister out in cold conditions and you've started to have issues, we recommend taking these steps to gently warm the formula.
You can raise its temperature by placing it inside a bucket of warm water for 15 minutes. Before you begin your bonding job, remove and make sure you gently agitate the canister by rocking it back and forth on its base shoulder.
If you want to learn more, check out this video from Quin Global experts on optimum canister storage all year round.
Join the Roofing Revolution with QDEK
We're serious about bringing the very best in bonding to roofing. That's why we've developed high-performing adhesives to get the job done faster, easier and safer. If you want to learn more about how to store adhesives the right way, please contact us today. The QDEK team is always on hand to give sound advice and tips for getting the most out of our products.