QDEK Web Spray: Bonding the Smart Way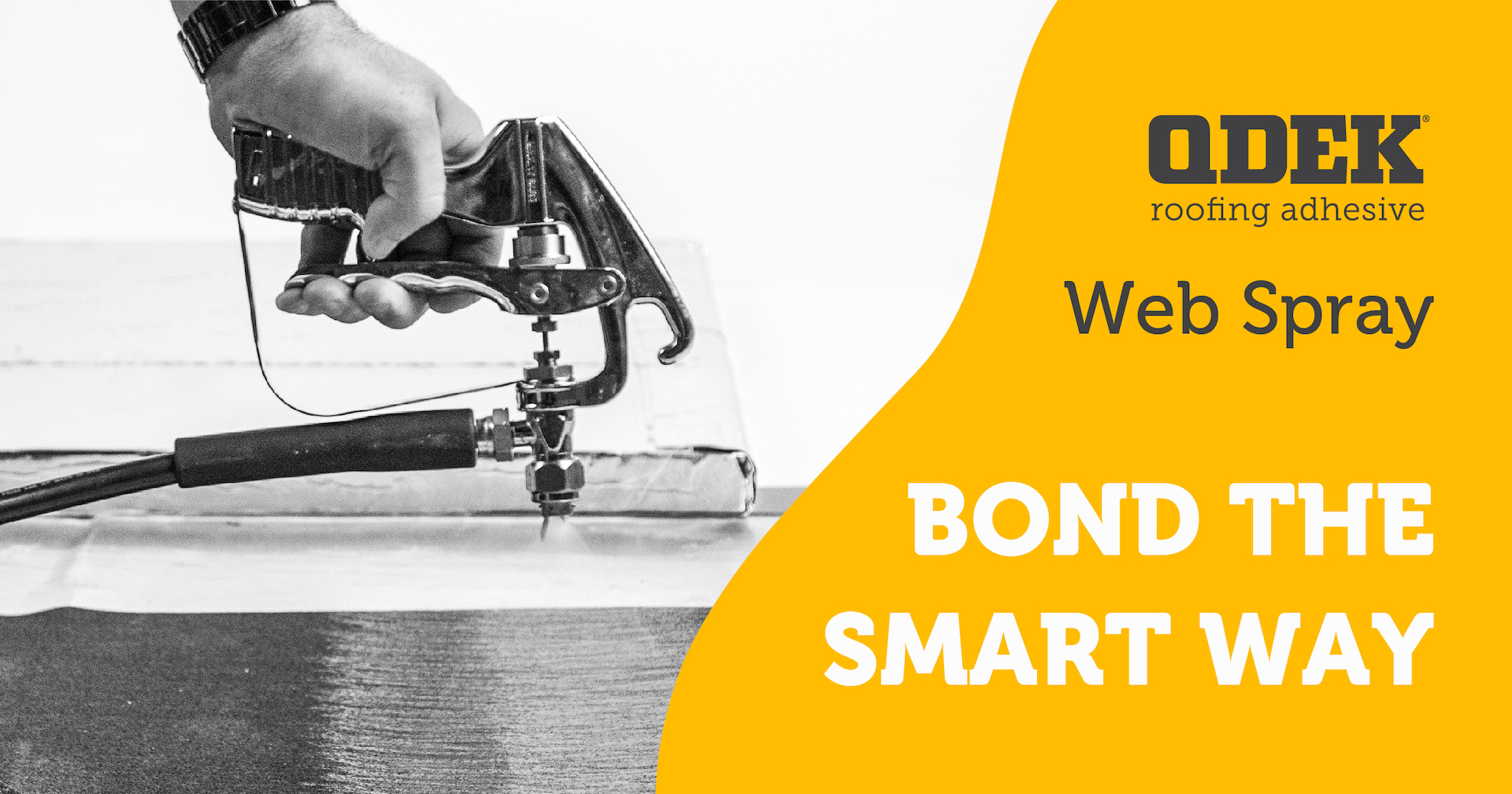 When it comes to flat roofing: bonding's always had the reputation as the 'messy' part of the job. Time and time again, we've heard roofers in the industry complain about the slow and high waste reality of the roller and bucket method. That's why we've invented spray contact adhesive systems: to get the job done faster, cleaner and more effective than any roller application on the market.
We've put the work in behind the scenes to deliver the ultimate adhesive system for single ply roofing:
Unique Spray Pattern: The web spray pattern delivers a consistent coverage of adhesive onto the substrate it's sprayed upon. This results in a super high grab, high performance adhesive that bonds evenly every single time. We've engineered our sprays for rapid high coverage and minimal mess: saving you time and money and making life a little easier.
Unrivalled compatibility: QDEK web sprays have been specially designed to bond EPDM, PVC & TPO/FPO flat roofing membranes to a variety of roof decks including concrete, insulation boards, plywood and cementitious boards. We know single ply roofing, and we've developed a range of adhesives to work with just about all the substrates you'll need to bond.
Reliable kit: QDEK web sprays are applied with expertly engineered guns for both ease and accuracy. The QDEK Field Gun is perfect for larger areas: the long want eliminates the need for any bending or kneeling, so you won't need to worry about any aches and pains the morning after a big job. If you're working on a smaller area, like a parapet or upstand, then the QDEK Detail Gun will do the job. This innovative bit of kit has been designed for use in areas where coat weight is critical and it works like a dream!
QDEK WEB SPRAY TOP TIPS
– First thing's first: shake the canister well. Then secure the hose nice and tight, releasing the valve carefully to prevent any leakages.
– Start to apply an even coat by spraying 10-20cm away from the surface at a 90-degree angle. Try to achieve 50% overlaps, this way you'll apply an even coat of adhesive to obtain 80% – 100% coverage of the surface as a whole.
– Make sure you spray both surfaces to be bonded – one vertically and one horizontally – to achieve optimal cross-linking and guarantee high performance bonding.
– Allow the recommended time to tack off: tap your knuckles on the surface and if there's no transfer, then you're good to go.
– Now it's time to adhere both surfaces. Press with a good amount of pressure – you want this bond to last. Allow 24 hours for the adhesive to fully cure & you'll have a solid, reliable bond.
– If your tip clogs, remember to use your QDEK Revival Kit: it contains 150ml Acetone, Spanner, Wire Brush & 8002 Tip and it comes free with each canister.
Web spray compatible products: QDEK 2000, QDEK 2001, QDEK 2003, QDEK 2300, QDEK 2301, QDEK 2400
Join the Roofing Revolution with QDEK
We're experts in bonding and we're here to help! If you're unsure about which adhesive is best suited to your materials, our trusted advisors are always on hand to give dependable advice. To find out more about QDEK smart adhesives, or if you've got a question you'd like us to answer, contact us today.