QDEK 3000: The Fully Sealed Solution for Insulation Board Bonding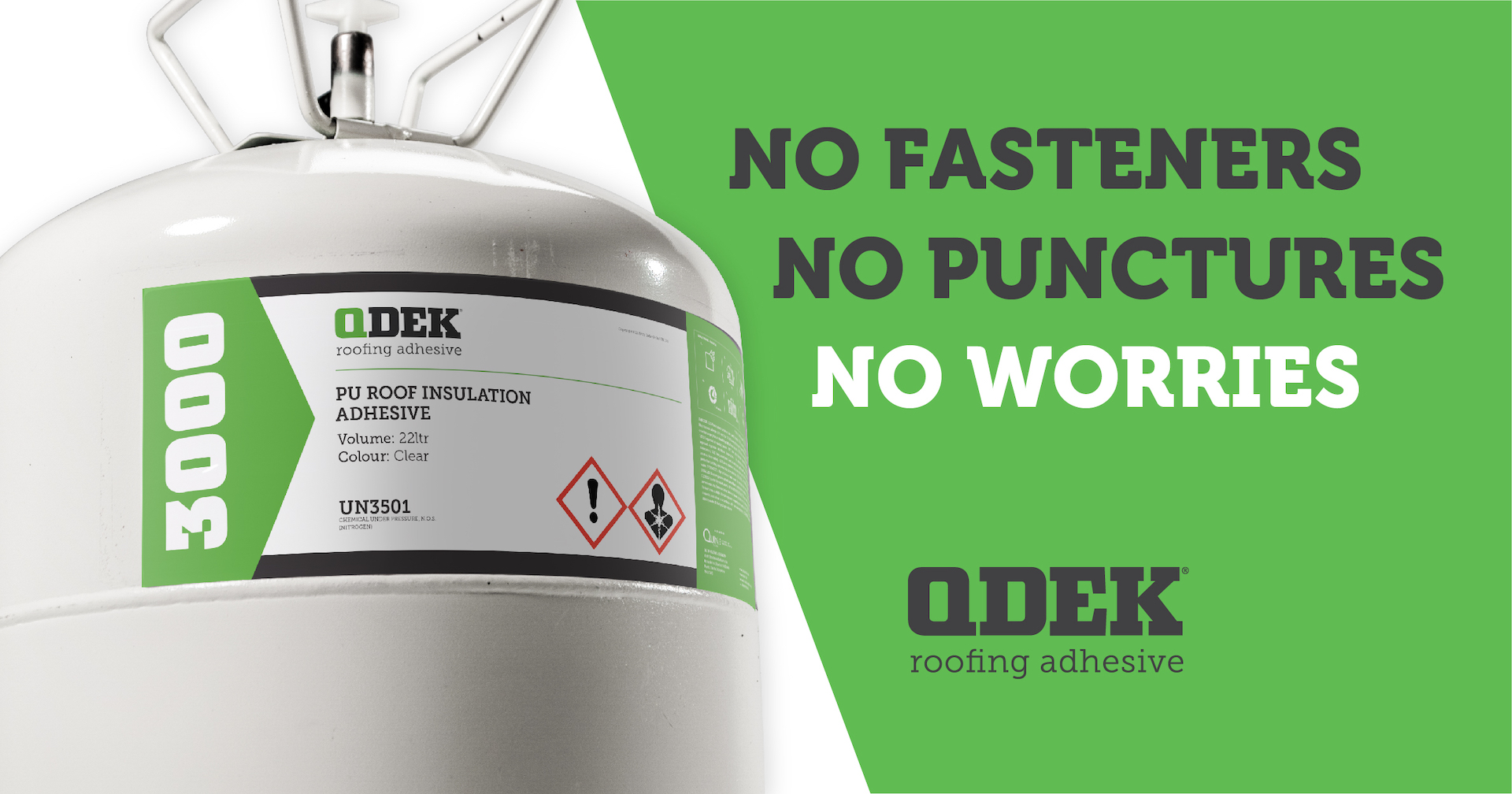 Is there anything worse than puncturing a perfect flat roofing job at the final stage? Of course the answer is NO! But no matter how careful you are, if you're working with fasteners then there's always the risk of puncturing an insulation board. That's why our best brains in bonding have developed QDEK 3000: a fully sealed system that replaces the need for fasteners.
This winning formula promises you'll never suffer a puncture again… but that's not all. This rock solid adhesive guarantees rapid, high coverage, zero waste application every single time. Here's all you need to know:
Even Joints Between Insulation Boards: Developed for smooth and consistent application, this foam beaded spray yields flat layers every time. QDEK 3000's controlled rise and super simple application makes it a winner in insulation board bonding. You don't need to worry about the weather either, even in low temperatures, QDEK foam extrudes phenomenally.
Dynamic Wind Uplift Tested: We've put QDEK 3000 through vigorous uplift testing to guarantee solid bonds for years to come. Wind uplift testing simulates the effect of strong winds in a controlled environment, so you can expect first-rate resistance and super solid strength when it comes to insulation board bonding.
Puncture Free Guarantee: Let's face it, nobody likes working with fasteners. That's why we've developed QDEK 3000 to eliminate any of the puncture risks that come with traditional insulation board fasteners. Our unique spray system achieves a flawless finish every time and you only have to walk the boards in once.
How to Apply QDEK 3000:
– Preparation is key! Clean down your surfaces well and make sure you remove any dirt, dust, oil, loose paint, wax or grease.
– Don't forget to do a small patch test. Whenever you're working with new materials, always carry out a patch test to ensure the adhesive is compatible and doesn't degrade the substrate.
– Now it's time to bead. Try to apply beads about 10-20cm away and at a 45-degree angle to the surface. Be consistent – we recommend a 20-30mm wide bead every 300mm for peak bonding performance!
– Place insulation boards onto beads of adhesive immediately without any pressure. Wait for 5 minutes for the adhesive to set.
– Once your 5 minutes is up, just walk the board in once & that's it – job done!