QDEK 2400: The Ultimate Self-Adhesive Membrane Primer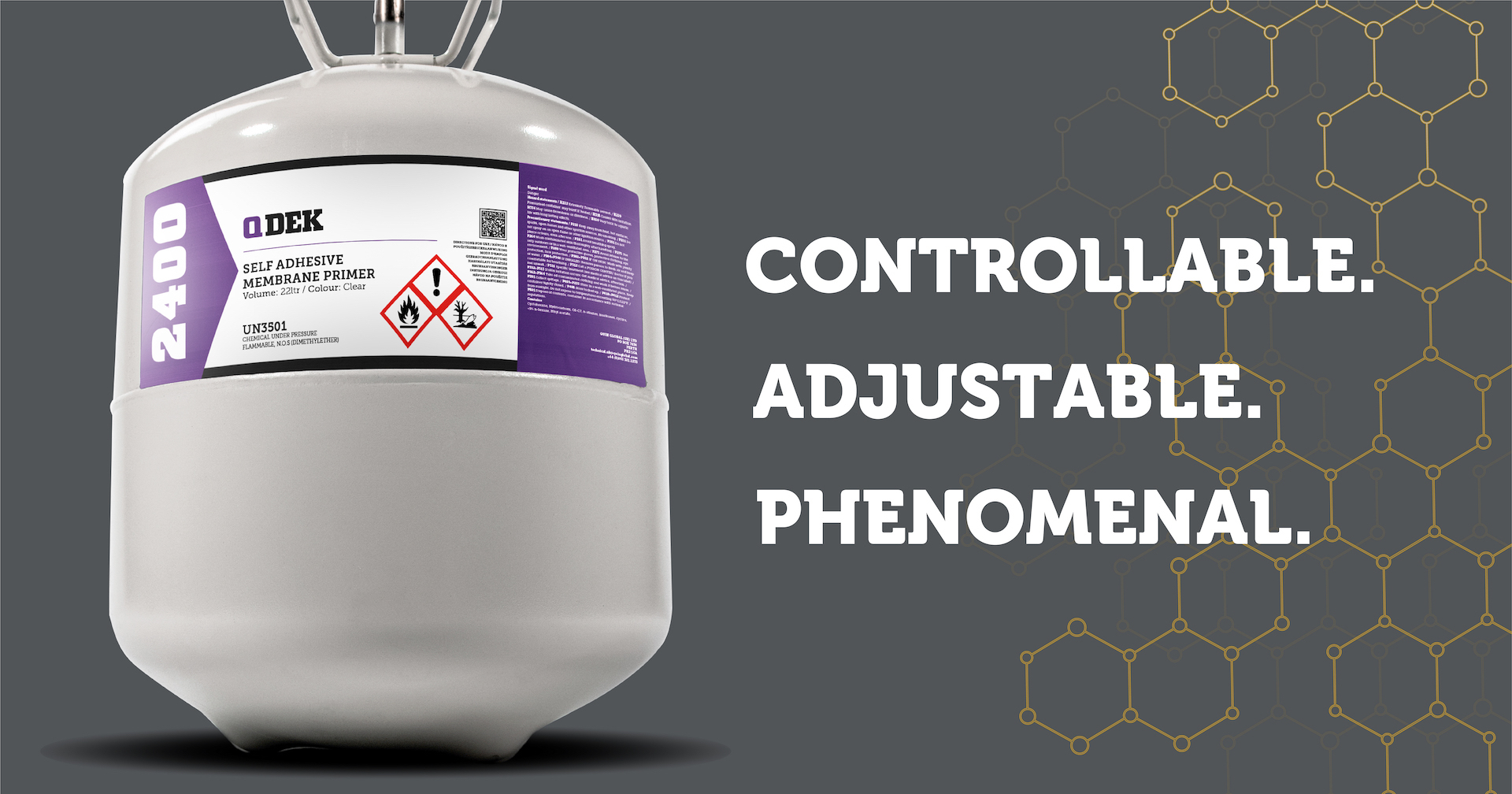 Are you a roofer looking for a trusted primer? Do you value versatile, fast-acting and mess-free products in your kit? Look no further: QDEK 2400 is here to change the game. It's 8 times faster than using a roller and there's zero-waste with the canister formula. It's a specially developed primer for use with all self-adhesive membrane and vapour barriers – the perfect solution for faster single-ply roofing installation. The QDEK guarantee is simple: controllable, adjustable, phenomenal results every time.
QDEK 2400 is an unrivalled spray formula primer engineered to deliver high coverage with minimal effort and no mess. Designed to outlast and outperform – our 22L canister has got you covered for 280M2 and flashes off in less than 2 minutes – we've put in the work, so you don't have to. It's also part of our 'Healthy Adhesive' range, we're working hard on our commitment to making cleaner, less toxic products as a popular alternative to harmful compounds like dichloromethane.
Compatibility: QDEK 2400 has got you covered on all bases – literally. It's a solvent-based primer formulated for use on all self-adhesive membranes and vapour materials. It's compatible for priming metallic substrates, bituminous materials, wood-based material and insulation boards. It's a trusted all-rounder created to prime your flat roofing job to perfection.
Healthy Formulation: QDEK 2400 is a Quin Lab Approved 'Healthy Adhesive'. We're here to look out for your safety and the Quin Global Innovation team have been working hard behind the scenes to remove the nasty stuff. We've refined the development of this primer to ensure the product is non-chlorinated – meaning our users can work safely content that toxic and carcinogenic elements have been avoided. The 'Healthy Adhesive' stamp also delivers on our goal to reduce the amount of Volatile Organic Compounds (VOCs) – we're putting your health and safety first.
Made for Roofing: We know the industry and we know what roofer's need to get the job done right. That's why QDEK 2400 is a primer designed especially for single-ply roofing with controllable and adjustable spray application, so you can tailor your spray width to ensure you get the right amount of control on the areas that need it. You don't need to worry about waiting for this formula to dry either – you can walk on a QDEK 2400 primed surface immediately with no transfer to your boots or equipment. This high-performing primer dries within 1-2 minutes of application compared with the 4 hour wait you'd have on a roller primer – it's a no brainer!
QDEK 2400 Self-Adhesive Membrane Primer User Tips
– Make sure your surfaces are clean, dry and free from any grease or dirt – this will maximise the performance of the product and get you off to the best start.
– Prior to use, try to shake the canister well, secure the hose tightly and release the valve carefully to prevent any leakages.
– A patch test is recommended so you know what to expect and get the most out of the product.
– Remember the optimal temperature for bonding is between 60 ˚F – 80 ˚F (16 ˚C – 27 ˚C) – so try to pick the right time for peak performance.
– Apply an even coat & spray 10-20cm away from the surface at a 90-degree angle. We recommend 50% overlaps applying an even coat of adhesive to obtain 80% – 100% coverage of the surface. If you think an area needs a little more coverage – just spray another coat.
– Allow 2 minutes for the primer to tack off – tap your knuckles on the surface if there's no transfer then you're good to go.
– Don't worry if your spray tip clogs: a little citrus cleaner designed to remove residues will do the trick!
Join the Roofing Revolution with QDEK
Get in touch with us if you want to know more about QDEK 2400. Contact Us today if you're a contractor looking for a high-performing primer or browse our full selection of smart roofing primer and adhesive solutions here.