QDEK 2350: Roofing's Rapid Real Deal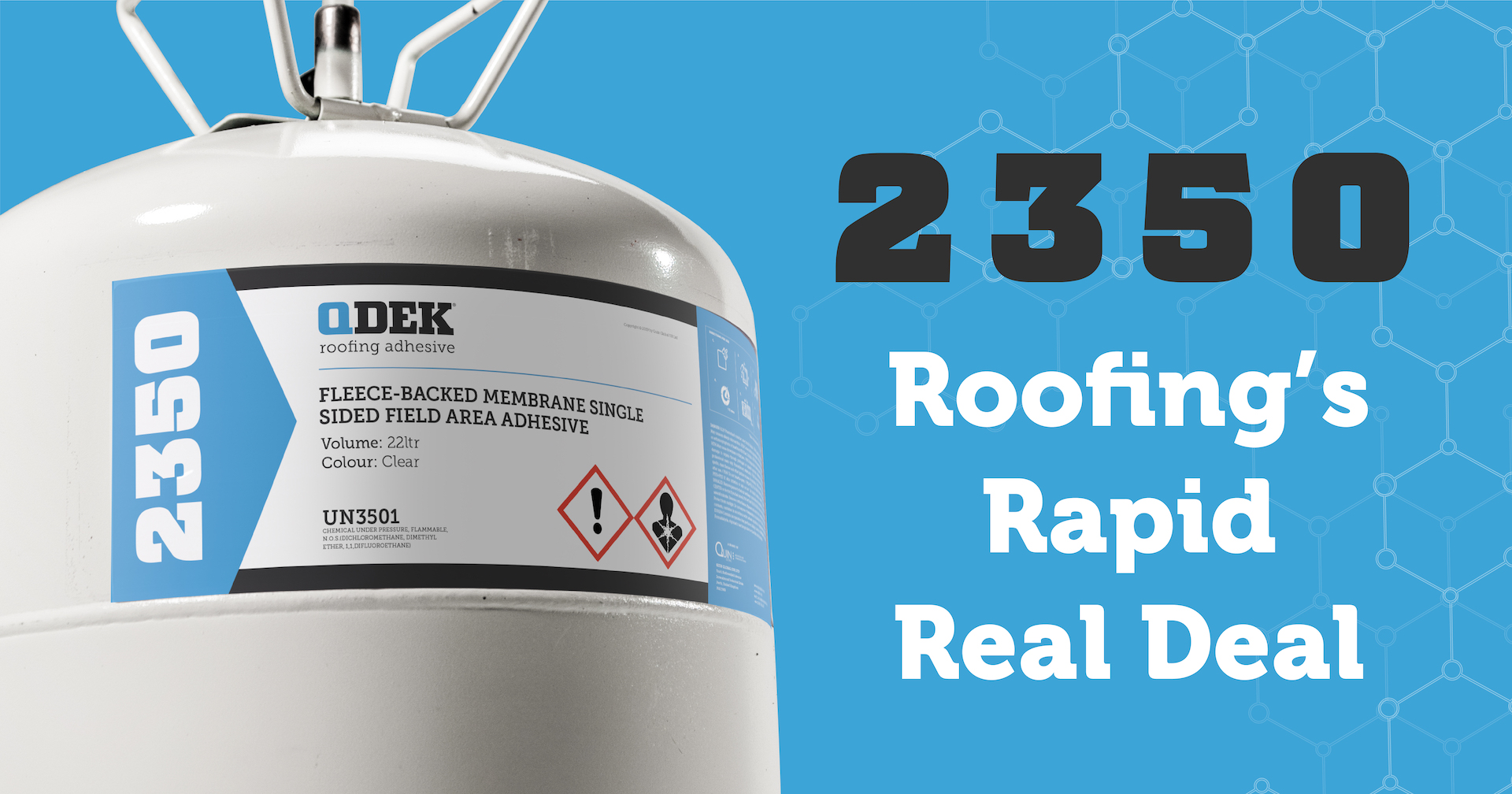 Is fleece-backed roofing your business? Well, bonding is ours. We know you spend a lot of time on application and probably even more time worrying about the weather. It's tricky working up there in all weathers and that's why we've developed this single-sided solution to get the job finished in no time. All you've got to do is spray the deck, wait 2 minutes and you're ready to lay – trust us, it's a game changer!
Spray adhesives are the way forward for faster application, zero waste and high coverage on flat roofing jobs. QDEK 2350 is our pride and joy – it performs like no other fleece or scrim-backed single sided membrane adhesive and works with a vast range of materials. Put simply, it's a trusty bit of kit. Here's the lowdown:
Rapid Single-Sided Application: When we say rapid, we mean it. This adhesive is sprayed directly onto the roof deck and there's no need to spray the membrane – so you've already cut your application time in half. QDEK 2350 flashes off in less than 2 minutes – compare that to a roller & bucket and tell us you're not ready to make the switch to spray? It has an open time of 15 minutes, so you've got a perfect window to lay out the membrane and reposition if required. A single 22L canister will cover up to 150m2, so you get a lot of bang for your buck.
Designed for Versatility: Roofing is varied, and we get that. That's why we've put all of our best brains together to develop a versatile adhesive that's compatible with a wide range of roof decks. QDEK 2350 will bond fleece or scrim-backed membranes to concrete, plywood, cementitious boards and insulation boards. It's also EPS and XPS compatible and it can be applied onto existing felt for easy re-roofing jobs or repairs. Trust us – QDEK 2350 will transform your kit!
Ultra-Strong Bondline: QDEK 2350 is a real toughie. It's been developed with a structural curing bond line, so super strong adhesion is guaranteed in all temperatures. It's 100% waterproof and 100% plasticiser resistant too – this reliable and durable formula has your back. This adhesive sprays in our unique snowflake pattern designed to give a slight rise as the droplets build on the board, so it anchors to the membrane and results in an unbeatable bond.
QDEK 2350 Fleece-Backed Membrane Field Area Adhesive User Tips
– Make sure your roof deck is nice and clean and get rid of any dust, dirt, or grease on the surface: this will maximise bonding performance.
– Give the canister a good shake, secure the hose tightly and release the valve carefully to prevent any leakages.
– Spray 15-30cm away at a 45-degree angle to the surface – apply an even coat of adhesive with 60-80% coverage. If you think an area looks bare, just spray a little more.
– Allow 2 minutes to tack off & take care to apply membrane within 10 minutes of application.
– If you've got any clogging issues, remember every canister comes with a free QDEK Revival Kit that contains a small aerosol of acetone cleaning fluid, a wire brush and spare tip.
Join the Roofing Revolution with QDEK
Looking for a single sided spray that gets the job done in less than half the usual time? Get in touch to find out more about QDEK 2350. Contact Us today to find out more about our products and distributors. Alternatively, browse our full selection of smart roofing adhesives solutions here.