QDEK 2301: The Smart PVC Roofing Adhesive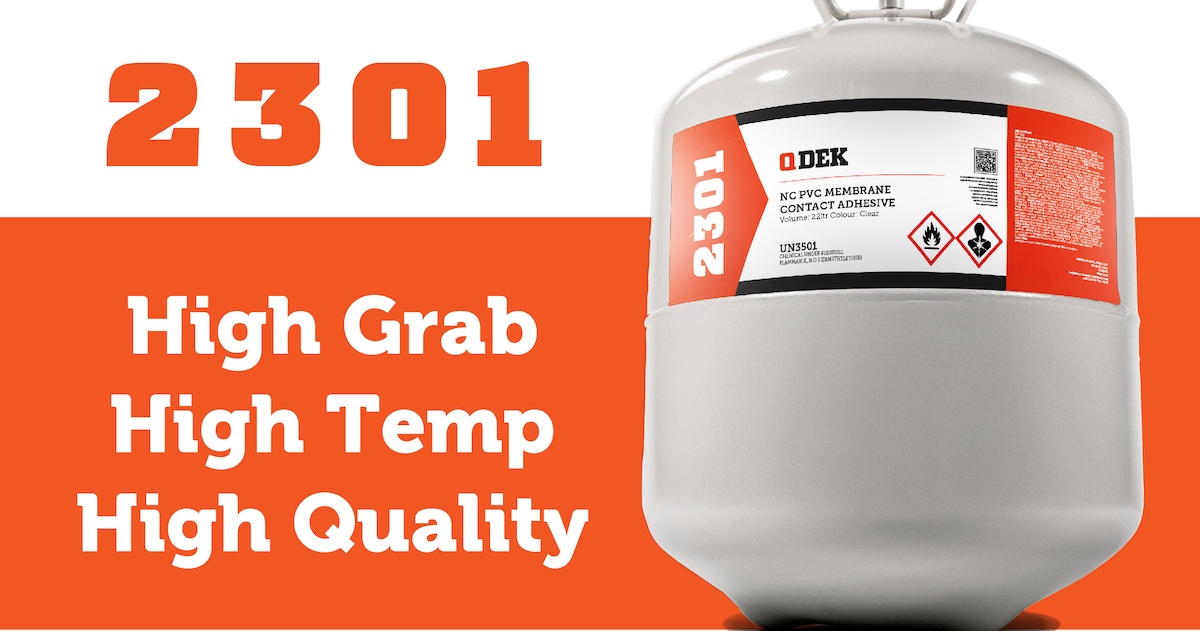 Is bonding PVC roofing membranes your craft? Does your kit need a solid, trustworthy adhesive that works every time? QDEK knows the drill and we've developed QDEK 2301 to do just that. This smart adhesive system is a high performance, rapid and waterproof wonder that will transform the way you install PVC flat roofing membranes. We're really proud of this one and we know once it's in your kit, you'll never bond with anything else.
QDEK 2301 is a 22L canister & gun system that yields a whopping 80M2 coverage. Our kit has been developed to perform on all kinds of jobs – no matter how big or small. If you're working on a larger area then the QDEK Field Gun will give high coverage with each pass, otherwise you can switch to the QDEK Detail Gun to really get into those smaller areas that need attention. This versatile adhesive will get the job done quicker, cleaner and safer – and that's a promise!
QDEK 2301 – The Smart Choice in PVC Roofing
Unrivalled Bonding Performance: This adhesive is as tough as they get and gives a long-lasting bond guarantee. QDEK 2301 is a high grab formula that has been developed with a structural curing bond line for maximum performance. It's also 100% plasticiser resistant too – so you don't need to worry about plasticisers migrating and compromising the quality of your job. This waterproof wonder flashes off in 2-3 minutes too, it works like a dream and gets the job done in no time. Try it and you'll thank us later!
Versatile and Compatible: We know how varied roofing is, so we've designed a versatile adhesive that will be the go-to bonding solution in your kit. QDEK 2301 is compatible with all plain PVC single ply membranes and is an excellent choice for detailed work where smoothness of the membrane is critical. This innovative bonding solution is the versatile choice for roofers that work on a wide range of substrates including concrete, insulation boards, plywood and cementitious boards. It's fully waterproof too so that's another bonus point!
Quin 'Healthy Adhesive' Formula: QDEK 2301 is a Quin Lab Approved 'Healthy Adhesive'. This means we've achieved our goal to reduce the amount of Volatile Organic Compounds (VOCs) and developed a product that poses minimal impact to your health. This non-chlorinated formula is a cleaner, safer alternative to dichloromethane, so you can rest easy knowing we've removed the harmful stuff. QDEK have put the work in behind the scenes to bring safe, bonding solutions to roofing – and that's something we're really proud of.
Join the Roofing Revolution with QDEK
Try our high performing adhesives that really do have it all – speed, coverage, grab and versatility. We understand what contractors need and have designed bonding solutions to transform flat roofing as you know it. If you're a contractor interested in QDEK 2301, Contact Us or browse our full product range here.