QDEK 2003: Meet Roofing's Jack of all Trades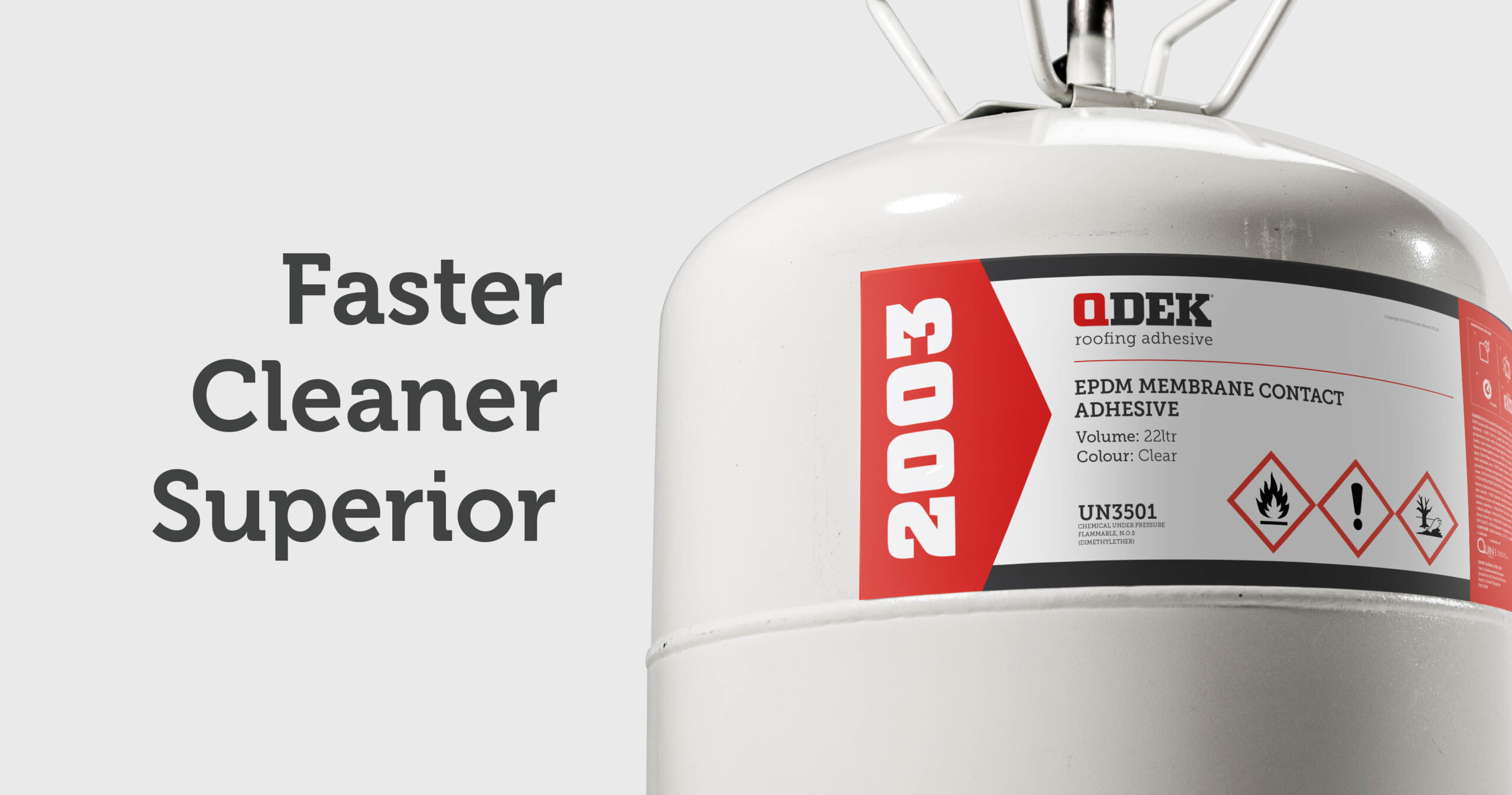 Need a roofing solution that's tried, trusted and fully certified? Tired of traditional methods that yield messy jobs and uneven application? Don't get frustrated, get QDEK 2003: specifically engineered to make your job easier with unrivalled grabbing power and the toughest bondline out there. QDEK 2003 – it really is the Jack of all Trades.
The unique formula is acutely engineered for bonding on larger areas and our 22L canister has got you covered for up to 80m2. QDEK 2003's ultra-versatility means it has no problem working on smaller areas too – just attach the Detail Gun and you're good to go! This roofing adhesive is a high-performing, industrial web spray formula designed to bond plain EPDM flat roofing membranes to a wide-range roof decks in no time at all.
QDEK 2003: Adhesive Performance, User Satisfaction
Versatility: If you're looking for impressive bonding power on a range of materials then look no further. Versatility is what contractors need and we've designed our formula with you in mind. QDEK 2003 will bond plain EPDM membranes to concrete, plywood, cementitious boards and most insulation boards. An added bonus is that it's also EPS and Polystyrene compatible. If there's one product you need in your kit – trust us, it's QDEK 2003.
Speed: Here at QDEK, we're all about getting the job done. We develop adhesives with unrivalled bonding power and rapid flash-off times – meaning you can get the job finished and be home in time for tea. QDEK 2003 has a swift flash-off time of less than 3 minutes – so gone are the days of waiting around to bond your surfaces. You can get straight to it and see your hard work rewarded in no time at all.
Ease of Use: We've really covered all bases with this one. The formula can be applied with our Detail Gun for those areas where the smoothness of the membrane is critical and the Field Gun for the more sizable jobs. The gun is also fitted with either a 4M or 8M hose – a nifty solution that means you won't be stuck in one spot. Bonding doesn't get any handier – and whilst the solution is fast-drying, users of the QDEK 2003 can relax with the 40 minute open time for those longer sticking jobs.
This essential bit of roofing kit is definitely worth your while. If you want unrivalled bonding power on a wide-range of surfaces then try QDEK 2003 – you'll get the job done in no time and you'll never look back.
QDEK 2003 EPDM Membrane Contact Adhesive User Tips
– Prior to use, try to shake the canister well, secure the hose tightly and release the valve carefully to prevent any leakages
– Always clean down your surfaces & do a test patch to get the most out of the product
– Remember the optimal temperature for bonding is between 60 ˚F – 80 ˚F (16 ˚C – 27 ˚C) – so try to pick the right time for peak performance
– Apply an even coat & spray 10-20cm away from the surface at a 90 degree angle. We recommend spraying both surfaces – one vertically and the other horizontally – to achieve optimum cross-linking
– Allow 24 hours to cure and don't worry if your spray tip clogs: a little citrus cleaner designed to remove residues will do the trick!
Join the Roofing Revolution with QDEK
Get in touch with us and we'll have your QDEK 2003 to you in no time. Contact Us today to discuss your order requirements. Alternatively, browse our full selection of smart roofing adhesives solutions here.