Looking to speed up your roofing applications? – QDEK 2400 Spray Primer can help you!
Here at Quin Global, we are always looking at ways we can help make your installation easier, faster and smarter. Therefore, our QDEK Spray Primer is the perfect addition to your self-adhesive or bituminous membrane installation.
It's quick to apply.
Hand-applied primers take a long time to apply, for example, on average it takes 35 seconds to apply 7sqm of primer. QDEK spray primer is ultra-fast in the application, as it takes only 15 seconds to apply 7sqm of spray primer, which is 57% faster than hand-applied products. Hand-applied methods also have long flash off times of 20 minutes or more, whereas, our spray primer only has a 1-3-minute flash off time. This makes installation times much quicker, avoiding the need to re-prime, making it easier to work ahead of harsh weather conditions.
With traditional methods, the roof decks must be cleared whilst the primer dries. With QDEK Spray Primer, roof decks can be primed and the VCL installed on the same day. After 2-3 minutes, the primed surface can be walked on immediately without transferring onto the soles of safety footwear. Primed metal surfaces can also be torched onto after this time, without any problem, making the use of this primer very universal. QDEK Spray Primer offers a phenomenal coverage rate of 280 square meters per 22-litre canister, making it very cost-effective per square meter.
What are the benefits for you?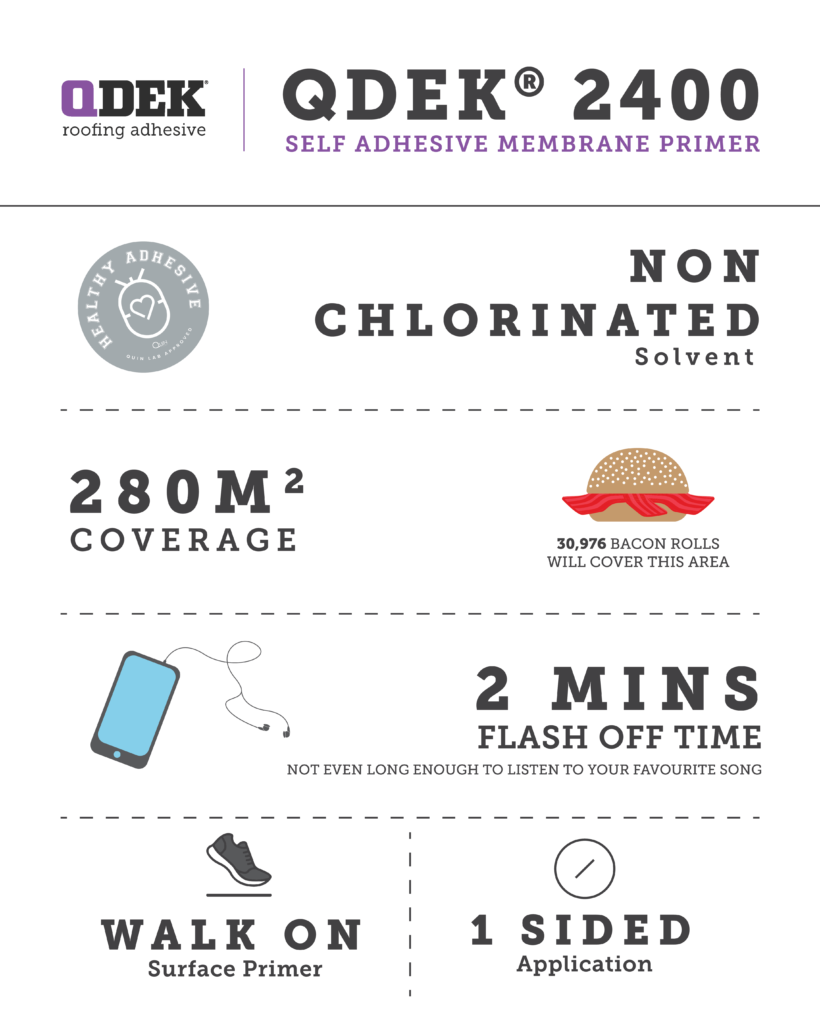 It's easy to control.
Another issue with roller-applied primers is they are messy and uncontrollable in application. Our canister spray guns have an adjustment wheel that allows the user to increase or reduce the width of the spray pattern, to suit the size of the area needing to be sprayed. The user then has full controllability and adjustability maximising coverage. Hand-applied primers can cure quickly in the tin whilst the lid is off, which creates wastage. The solution to this is using the QDEK 2400 Membrane Primer spray canister system, which is fully sealed, ensuring you have zero wastage of primer.
We have the solution for you.
Have you faced any of the above problems and are looking for a solution? Then QDEK 2400 Membrane Primer is the solution for you. It is a spray primer containing solvent, based on synthetic rubber and resins, and is specifically designed for use with all self-adhesive membranes and vapour barriers. QDEK 2400 Membrane Primer can be applied to metallic substrates, bituminous materials, wood-based materials, and insulation boards.
Get in touch!
Are you interested in finding out more about our roofing products? Have a look at our website or get in touch with one of our sales team here.
Follow us on Social Media