Get the Job Done with QDEK's Cold Weather Formula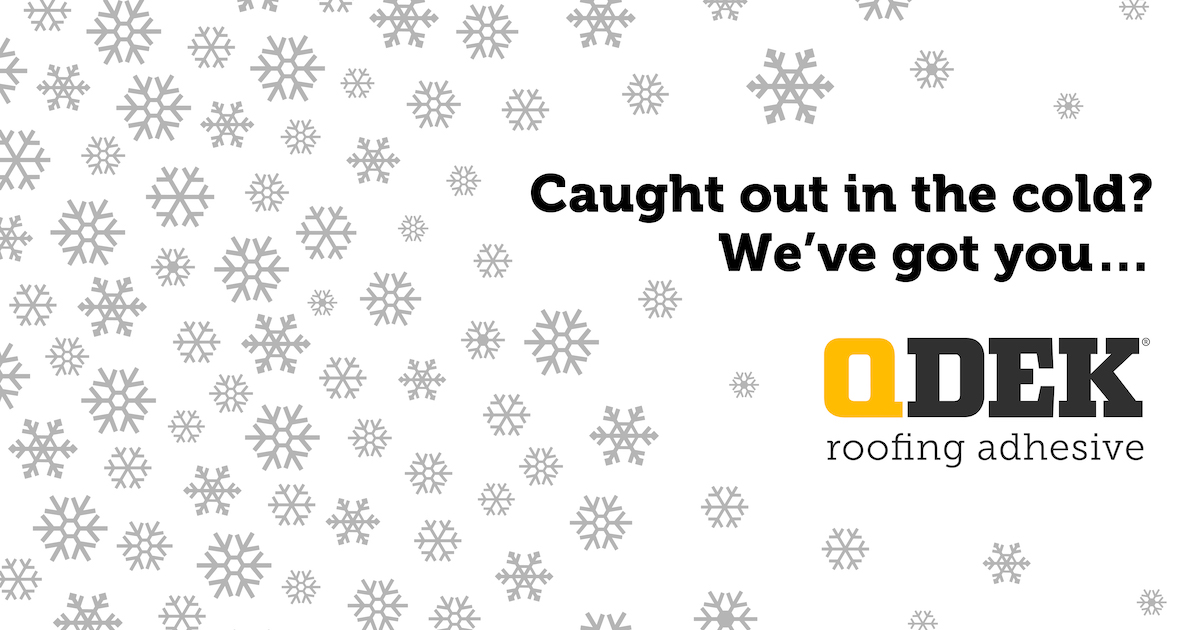 If you're a roofing contractor, it's safe to say that you keep your fingers crossed for those brighter, sunnier days. Come rain or shine, QDEK products are here to make your life simpler. We know jobs don't just disappear because the weather gets gloomy – and with low temperatures being a common cause of adhesives underperforming, we're here with the ultimate fix.
The last thing anyone wants is to be working longer on cold winter days. But on bonding jobs, that's what's likely to happen – for many adhesives, temperatures of 5°C and lower can cause all sorts of problems. From longer flash-off times to foaming in the adhesive, roofing in the cold can leave you rattled. Why deal with the headache? Our cold weather formula provides phenomenal results year-round, so you don't have to be at the mercy of the elements.
Caught Out in the Cold? We've Got You…
Our cold weather formula means you can depend on QDEK's superior performance even when the temperature plummets.
– No foam, no fuss: Unlike many other adhesive solutions, QDEK users won't experience any foaming if their adhesive has been exposed to lower climates. No foam, no fuss – our formula means you can be assured of safe and rapid bonding every day of the year. What's more, QDEK products can be used in temperatures as low as 5°C provided the canisters have been stored at optimum temperatures – above 10°C.
– No blistering: You don't need to fear blistering after application, even in the cold. This means you can move straight onto the next part of the job without revisiting your bonding job!
– Superior bond strength: Forget adhesive wear-and-tear as a result of weather erosion and freezing temperatures – our solutions don't buckle in the cold. QDEK users around the world enjoy superior bond strength, no matter how sorry it is outside. Choose QDEK and proceed with total confidence that you'll get the job done right the first time!
Don't Freeze, It's QDEK
You can be confident with our cold weather formula for any application you might need – our range covers the whole arsenal of adhesives you need to get your job done with ease. Our cold weather formula means you can tackle TPO/EPDM membranes, Plain PVC, Insulation and more – regardless of the forecast.
Never mind the shivering. Choose QDEK!
Join Us in the Roofing Revolution
Enjoy rapid and permanent bonds in record time with a formula that is tried, trusted and acutely engineered at the pioneering laboratories of Quin Global. To find out more about our cold weather formula, get in touch with our expert team who will be happy to assist. Alternatively, view our full range of smarter, cleaner roofing adhesives here.