Discover the Benefits of QDEK Canisters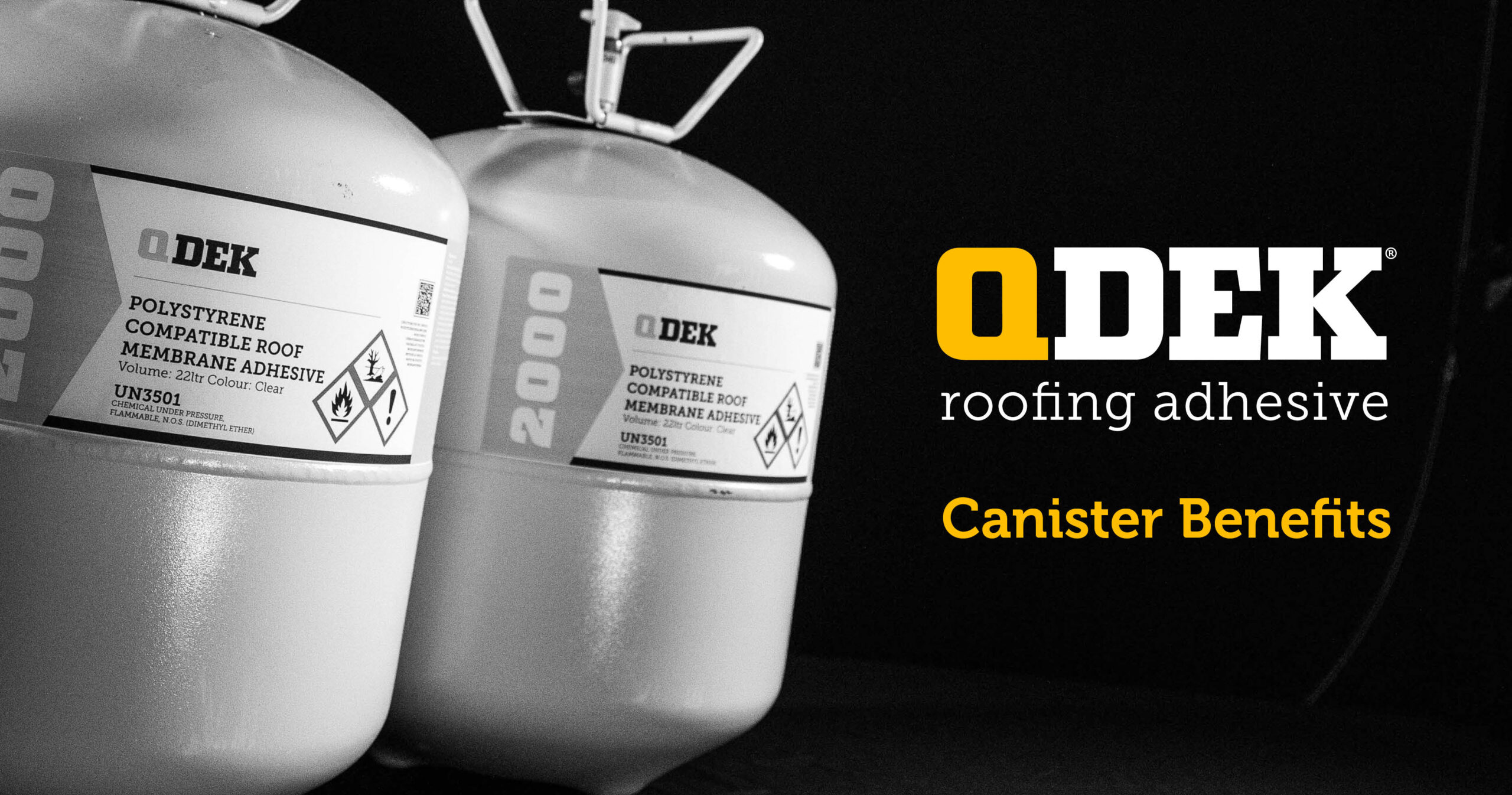 Here at QDEK, we're driving a revolution in roofing. We've formulated our smart adhesive solutions to help you finish the job to the highest possible standard. Trust us – we've put the work in behind the scenes and we can guarantee that our pioneering canister system will produce faster, cleaner and safer results. So if you're installing a flat roofing membrane, then take our advice: scrap the roller and bucket and get yourself a canister and gun – you won't regret it.
We're speedy: 57% faster than the old roller and bucket method in fact. Our portable canisters will cover a 600mm wide application in one pass – which means rapid coverage in no time at all. Our innovative spray formula also tacks off in just 2 minutes… compare this with the usual 25 minute drying time for a roll-on and tell us you're not ready to make the switch?
We're spotless: That's right, no mess and zero waste. We're proud of our efficient spray systems and can guarantee you'll never return to messy applications and annoying clean-ups. The canister and adjustable spray pattern width gives the user full flexibility and control over application. We know every job is different, so tailoring the width of the spray pattern means you treat areas from 1" to 20″ depending on the job at hand. The QDEK canister is a flexible, waste-minimising approach which reduces overspray and means your solution lasts longer and goes further!
We're safe: 100% safer than hot works – the QDEK guarantee. We know hot works on a roofing project is a high risk activity so we've created an ultra-safe spray system to eradicate this risk. Our tried and tested equipment means you can relax in our safe hands – and your risk assessment will thank us too! We're also looking out for your personal wellbeing with ergonomics high on our agenda. All the kneeling, bending and stretching you're used to with roll-on adhesives are a thing of the past. Wave goodbye to those post-work aches and pains & choose QDEK for comfort.
We're scientific: Research, test, evolve, repeat. That's what we do at QDEK. All of our products are vigorously tested and improved by our in-house industry experts who strive for continuous improvement when it comes to our bonding solutions. Our adhesive and gas mix canister is engineered to be the world-leading solution in flat roof bonding application. The pressurised gas system is designed to propel the adhesive for quick, safe and effective application. The QDEK Detail Gun and QDEK Field Gun have been designed with coat weight, surface materials and first-class performance in mind.
Join the Roofing Revolution
The QDEK range covers all your flat roofing needs – our spray adhesives and primers are specially designed for the bonding of single ply membranes, insulation boards, self-adhesive membranes and vapour control layers. Available in 13.7L and 22L canister systems, our promise is simple: fast, clean and high coverage application.
We're here to help and would love to hear from you! If you have any questions about our products then please get in touch or view our full range of products here.